Grow Your Spa/Salon Business By Keeping Track Of Your Performance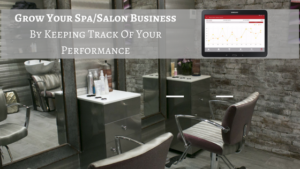 Running a successful business is a tedious task, as it requires the owner to monitor and make note of its various aspects. Most of them would know how to come up with innovative plans, how to attract customers or counter the competition for that matter. But very few would know the statistical aspects of the business. Decisions made on instinct may or may not be successful, but the ones backed up by statistics have a higher chance of being fruitful. Though you have been using POS software for spa for various uses – booking, management, sales or more, there is much more to it. Here's how your business's performance statistics could help you grow.
Performance evaluation is valuable
When running a salon business, something that can ever be as good as its staff, performance reviews and analysis becomes a necessary element. Such analysis would help you rate your employee, encourage and appreciate them for their efforts and thus motivate them to perform better. When someone's efforts are valued, measured and rewarded, it appreciates them to do better.
Sale insights are crucial
While you have been happy with the numbers and have just focused on the sales at the surface level, but what if it is masking the underlying problem. What if you have been beating around the bush and haven't grown overall. Though the sales have been good, but have the sales been good all over the catalog? To ensure that you progress in every sector, use the various other functionalities of your Spa management software and gather sale insights and detailed reports.
What the customer has to say
In a service business like a salon or spa, where customer feedback is a highly valuable element, you are required to pay special attention to these. Consumer feedback's would enable you to improvise your services and provide what they need. Many Spa Scheduling Software help you with the bookings, as well as gathering feedback from the sessions. You can generate reports to analyse that data and alter your ways accordingly.
Loyalty program success rate
You might have executed numerous loyalty programs to retain customers and to improve your clientele, but not everything happens to work out. Did you analyse those plans? Do you check which employee manages to retain clients and which drives them away? This is crucial as your customers define your success and growth. Secondly, getting new customers is more challenging than retaining an existing one.  Thus, make use of your Salon management software judiciously and come up with effective programs.
Paying attention to the regulars
The regular clients should be among the most important clients, as they deserve all the attention and priority service. Utilize your Spa Appointment Software to identify these special ones and treat them with utmost care. Secondly, not every department receives a similar number of bookings, so by a statistical analysis of your bookings, you can make slots available for more bookings.
The money matters
At the end of the day, all that matters is how money did you actually make. There would be people who used some services, some might have redeemed some offers, and there will be some promotional offers and other expenses. Thus, a comprehensive understanding of your income and expenses is crucial. With your POS software for salons keeping track of everything, it would be easier to simply generate a quick report and get an insight of your growth.
One of the biggest problems most businesses face is lack of implementation. Just generating these reports and gathering data isn't sufficient, you got to act on it too. Study these reports, identify patterns and take measures to enhance your customer experience and growth.
5 Best POS System for Restaurant in NJ
5 Best POS System for Restaurant in NJ
Grow Your Spa/Salon Business By Keeping Track Of Your Performance
Read how your Restaurant POS System can increase sales by 50%. It's time to upgrade the way of restaurant payments, online order, table reservation and more. For a Free Demo, call us at +1 (877) 407-9321
Grow Your Spa/Salon Business By Keeping Track Of Your Performance. Performance evaluation is valuable,Sale insights are crucial,What the customer has to say,Loyalty program success rate, Paying attention to the regulars, The money matters.
Deepak
TrueKonnects
https://www.truekonnects.com/img/logo.png