8 Simple Rules to Make a Lasting Impression on Your Customers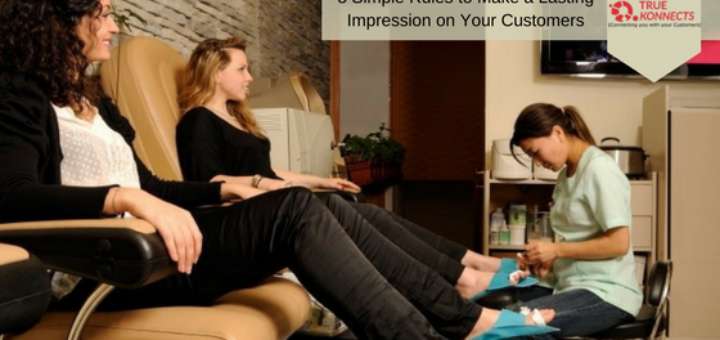 It seems to be the toughest job on earth when you are at the reception desk of a salon handling hundreds of client calls and receiving them in person all day with an ever-smiling face. It needs time to practice and with experience, you can be perfect at your job. To make things simpler, you should opt for good Salon management software to keep track of the appointments and visits.
Given below are a few useful tips that might help you improve your performance in a great way:
Keep a smile on your face: A friendly smile makes a positive impact on the clients. If you are on the phone, try to smile while talking. It reflects in your voice that makes it sound more friendly and receptive. Greeting a client with a smiling face at your desk will help your clients feel welcomed and comfortable.
Address clients with their names: Make a note in the Pos software for salons once you hear their name and use it every time you interact. Drop the usual professional tone and addressing them as "Sir" or "Madam". Greeting them by their names gives a friendly yet personal touch making your clients happy. It creates an impact that you are paying special attention to them.
Extract details: Make sure you extract as much relevant information as possible to serve better and retain the customer for a long time. It is important to get details of the client and filling them in the Spa management software. This will not only help you with billing and other processes but will give you the database for the marketing campaign.
Be receptive and understanding: Maintain a friendly and cooperative attitude so the client feels comfortable while discussing their requirements with you. Try to be a problem-solver to give them ready solutions for all their needs. Think and act proactively to deal any situation with ease. If you approach clients in an understanding manner they will easily open up.
Know the basics: Being the representative of your salon, you must have the basic knowledge about the types of services and other basic things when you interact with the clients. Apart from maintaining the Pos software for spa, keep notes about the things that you need to know while answering a client call. Everyone appreciates a knowledgeable staff at the reception desk.
Don't argue: Arguing with your client over minor or major issues might spoil the reputation of the salon. So, keep your calm and deal with angry clients with absolute professionalism. Take the blame if you guilty and try to figure out the issue from their perspective. Listen to your clients and try to figure out the best possible solution for them.
Make eye contact: Never make your clients feel ignored by not making an eye contact while being busy with the Spa Appointment Software. Maintaining eye contact is extremely important for meeting your clients face-to-face. It shows that you are attentive and listening to the client. But remember not to exert aggression through a stern look.
Have no glitches: You will face different customers throughout the day and many of them will not be in their best mood while interacting with you. Also, you might face an abusive or an arrogant customer that is difficult to handle. The best advice is not to take things personally as this is part of your job.
If you follow these simple rules you may see positive changes at your job. The more you practice these tricks the more confident you will be creating a huge impact on your performance. Humans are prone to make mistakes, so select the best Spa Scheduling Software to avoid missing important appointments and events. Be committed and deliver your best at work.
5 Best POS System for Restaurant in NJ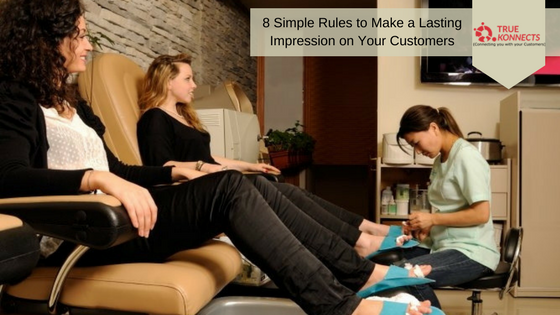 5 Best POS System for Restaurant in NJ
8 Simple Rules to Make a Lasting Impression on Your Customers
Read how your Restaurant POS System can increase sales by 50%. It's time to upgrade the way of restaurant payments, online order, table reservation and more. For a Free Demo, call us at +1 (877) 407-9321
8 Simple Rules to Make a Lasting Impression on Your Customers.Keep a smile on your face, Address clients with their names, Extract details,Be receptive and understanding, Know the basis
Deepak
TrueKonnects
https://www.truekonnects.com/img/logo.png