Makeup and Hair Trends for This Wedding Season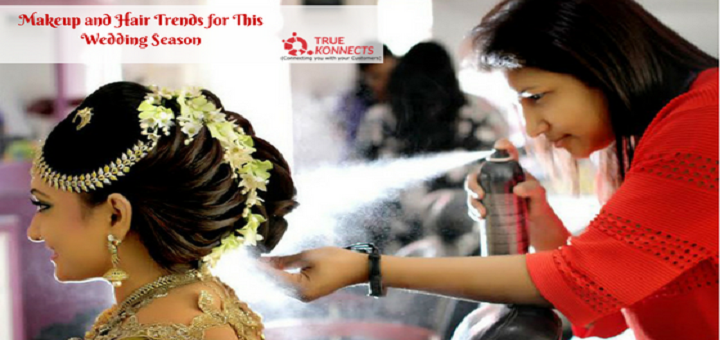 The wedding season is approaching fast, and soon your salon would be flooding with soon-to-be brides and their bridesmaids. Every season, trends change, people are looking to keep up with the trends and follow the style statement. However, it can be difficult for salons to catch up with the changing trends, at it requires considerable training, analysis, and research and updating their Salon management software. For salons that focus mainly on weddings and are expecting a lot of booking this wedding season, here are the hair and makeup trends for this season.
Floral makeover
Women have always looked pretty with a floral touch to your hairstyle. For this wedding season, you could style your brides by incorporating flowers to their hairdo. If your client is willing to try something new, suggest a bun or braid with small flowers weaves through the hair. Also, a floral crown mixed up with little ornaments would leave them spellbound. Your clients would love this graceful look for their special day.
Big Braids are back
This wedding season you can expect a lot of brides asking for a thick and big braid as a part of their bridal look. Braids are low maintenance but manage to add elegance and a bold look, and thus are a hot trend for this season. You can style the braids in many ways – Long, Crown, Fishtail etc. You could come up with your own styles and advertise them using your POS software for Spa and attract customers.
Try the Top Knot
This is one of the hottest trends for this bridal season. Hair tied up in a bun over the head presents a strong image and gives a bold look to a feminine face. There a number of ways you could style a bun based on what suits your customer's look.
If you have an online Spa Appointment Software portal, you could introduce special offers or advertise your wedding collection for the season.
Glossy Lips
With the natural look in the trend, glossy lips would be a perfect combination for the bride. Dark and bold colours like red, berry shades and pink would be in high demand. If your clients are looking for a glossy or matte finish, avoid sparkle or metallic gloss as it might interfere with the natural look.
Let's go minimal with the makeup
Brides are looking to go by the minimal makeup look for this year instead of the heavy look. With women talking about a natural look and embracing their natural self, you might be hearing a lot of your clients asking for just a touch-up, even though it is their big day coming up. Every customer might have a different requirement, and so Spa management software could help you keep note of it.
Go bold with prominent brows
The brows form an important feature on a female's face, and women are often very particular about their shape and density. Thick prominent brows can make a face look young and attractive. You better work on your employees' brow styling skills for this wedding season.
Your clients would be pleased to see you keeping up with the latest styles and would definitely want to make an appointment. Though it is important to keep up with the trends, don't forget to do a little market research, as the clients in your neighbourhood might not be up for the same. Make use of your POS software for salons and understand their needs.
5 Best POS System for Restaurant in NJ
5 Best POS System for Restaurant in NJ
Makeup and Hair Trends for This Wedding Season
Read how your Restaurant POS System can increase sales by 50%. It's time to upgrade the way of restaurant payments, online order, table reservation and more. For a Free Demo, call us at +1 (877) 407-9321
Makeup and Hair Trends for This Wedding Season. Floral makeover, Big Braids are back,Try the Top Knot,Glossy Lips ,Glossy Lips , Go bold with prominent brows.
Deepak
TrueKonnects
https://www.truekonnects.com/img/logo.png