7 Must-have features of Spa POS software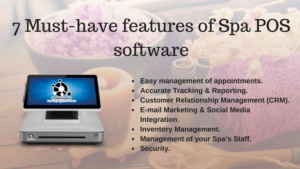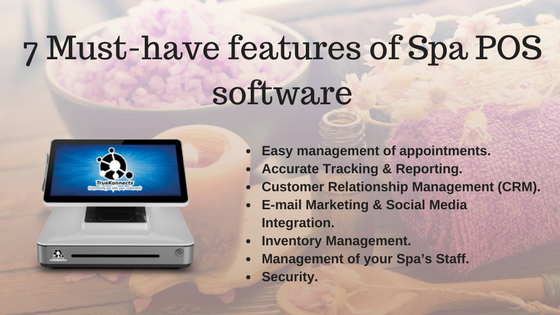 In today's era, it is paramount to be ahead in technology for every business – even for spas. POS software for spa are capable of branding and marketing your spa services on a whole new level. If you own a spa or salon, the integrated technologies used in this software can help to enhance your online services and bring your users back for more.
Let us walk you through the must-have features that you should expect from your spa software.
Easy management of appointments
The very first thing that you expect from your spa software is to be able to manage the appointments in your schedule easily. With the advent of Spa Appointment Software, it is easier to add, edit and delete appointments. Moreover, you clients can book their appointments themselves from the websites which are sourced to the software directly.
Accurate Tracking & Reporting
The greatest advantage of the spa software is that it has an automated system to track and report about the repeat customers. This enables you to analyse the activity, percentage of your spa sales, appointments and even the growth of your employees. With automated reporting, it is easier to do an extensive analysis without much of a hassle.
Customer Relationship Management (CRM)
CRM is the latest terminology of that defines the relationship between the customers and sellers throughout the buying process. This is a powerful tool for growing your spa business and it helps you to attract more clients. There is POS software for salons that have the features of CRM to help you connect with the spa as well as salon audiences.
E-mail Marketing & Social Media Integration
The day internet came into existence, emails have been the major source of communication. Email marketing is a hard-to-replace tool for your spa business. The spa software can help to automatically send promotional emails regarding latest offers and execute campaigns. Moreover, this software also allows you to integrate your customer's profile to your social media pages. The social media integration increases your sales and brand loyalty.
Inventory Management
Spa Management Software can help to take care of the spa retail and sales of your merchandise. It helps with the bookkeeping and centralizes your spa business revenues to your software and makes management of your spa inventories much easier.
Management of your Spa's Staff
The spa software allows you to operate everything on a single platform and thereby increases your business' efficiency. The all-in-one system also allows you to manage your staff ensuring flexibility. This helps you to prepare for your customer in ahead of time to result in the perfect overall experience.
Security
When you integrate your entire client's data, business sales system, employee data, inventory data etc. with the online systems, fraudulence becomes a major threat to your spa business. Salon Management Software helps you to have strong passwords, locking down of client export and debar the editing of sensitive information such as past transactions data. It also provides you with credit card security features and adds another layer of protection to your software.
Now that you are aware of the features that your spa software must have, buy spa Scheduling Software for your business that can help you to schedule appointments with your clients online and locate spa/salon clients near you. Spa software can help to grow your business and makes things easier due to the centralized operation of a variety of features.
Summary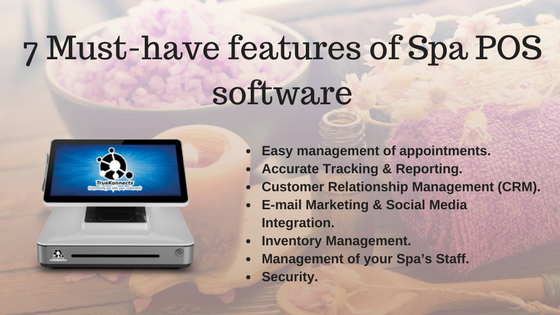 Article Name
7 Must-have features of Spa POS software
Description
7 Must-have features of Spa POS software.Easy management of appointments, Accurate Tracking & Reporting, Customer Relationship Management (CRM), E-mail Marketing & Social Media Integration, Inventory Management, Management of your Spa's Staff, Security.
Author
Publisher Name
Publisher Logo